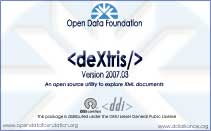 Overview
DeXtris is a open source utility whose objective is to facilitate the use and understanding of XML files. It has been designed for simplicity and does not require the installation of extra component. Instead, it runs into standard web browser such as Firefox or Internet Explorer.
To use the software, open any valid XML file on your computer by using the form at the top of the page. For all XML documents, DeXtris provides basic functionalities such as a file overview and the ability to browse the document. You will find DDI 1/2.x and 3.0 sample documents in the "examples" folder under the application installation directory.
The application focuses on metadata standards recommended by the Open Data Foundation for the management of statistical data. Special functionalities have been developed for specifications such as the Statistical Data and Metadata Exchange (SDMX), the Data Documentation Initiative (DDI) (including the draft release of DDI 3.0). Other formats are expected to be supported shortly. When a file from a known namespace is opened with DeXtris, extra information will be provided about the document and specific functionalities will become available. For example, opening a DDI document will allow you to quickly generate a standard data dictionary or search for variables.
DeXtris is in its initial stage of development and your commnents and feedback will play a vital role in future development of the tool. Use the feedback function under the Help menu to report bugs or provide suggestions to the development team.
Download
To install, use the setup program (windows only) or unzip the content of the ZIP file and open the dextris.html file (in the root folder).
Current version is 2007.03
For comments, suggestion, bug report and contribution, please contact the DeXtris development team by email at info@opendatafoundation.org.
Recent Changes
v2007.03
Updated DDI 3.0 documentation and schemas to February 2007 Public Review
Upgraded transforms to comply with DDI 3.0 Feb 2007 PR
Updated overview for DDI 1/2.x
Updated overview for DDI 3.0
Enhancements to DDI 2.0 to 3.0 upgrade transform
*NEW* Option to convert DTD based DDI 1/2.x document to a XSchema based model when loading
Upgraded Yahoo!UI library to 2.2.0
*NEW* Help page on DDI 1/2.x to 3.0 upgrade
Leaf nodes in browser tree no longer shown as expandable (thanks to Achim for the suggestion)
v2007.02
Renamed product "DeXtris"
*NEW* "Examples" menu with direct links to DDI Alliance, ICSPR and IHSN sample documents
Added "Reload" button (thanks to Wendy for the suggestion)
About
DeXtris levarages the following open sources packages:
Sarissa (http://sarissa.sourceforge.net)
Yahoo! UI Library(http://developer.yahoo.com/yui)
License
Copyright 2006,2007 Open Data Foundation
This program is free software; you can redistribute it and/or modify it under the terms of the GNU Lesser General Public License as published by the Free Software Foundation; either version 2.1 of the License, or (at your option) any later version.
This program is distributed in the hope that it will be useful, but WITHOUT ANY WARRANTY; without even the implied warranty of MERCHANTABILITY or FITNESS FOR A PARTICULAR PURPOSE. See the GNU Lesser General Public License for more details.
The full text of the license is available at http://www.gnu.org/copyleft/lesser.html